Group Disability Insurance and Absence Management
Financial protection for the unexpected.
Our flexible policy designs and consultative approach help ensure your groups get the coverage they need at a price that fits their budget.

When a disability or leave of absence occurs, a dedicated Symetra Case Manager is assigned for the life of the case, providing clear communication on the claims process while fostering a trusting relationship with the employer, claimant and treating physician.

What type of coverage do your clients need?


Short-term disability
Provides financial support if an insured is unable to work due to a non‐occupational illness or injury—available on an employer‐paid or voluntary basis.
- Payment duration of 9 to 52 weeks.
2‐year rate guarantee on some policies.1
Value‐add programs can help enrolled members with many of life's challenges.
- Employee Assistance Program (EAP)
- Health care navigation
- Travel Assistance
- Identity Theft Protection
Long-term disability
Offers 24‐hour protection to employees for on‐ and off‐the‐job incidents; plan designs include core buy‐up and voluntary programs.
- Integration options available.
3‐year rate guarantee on many long‐term policies.1
Value-add programs give enrolled members access to an added network of support.
- Employee Assistance Program (EAP)
- Health care navigation
- Travel Assistance
- Identity Theft Protection
Absence management
Our in‐house team can help significantly reduce the burden of administering employee time away from work while reducing the risk of non‐compliance.
- Down-to-the-minute tracking of intermittent leaves.
- Detailed, comprehensive reporting for nearly all types of leave.
- Coordinated with Symetra disability products.
Return‐to‐work resources including vocational rehabilitation and worksite modification benefits.
Value‐add programs for added employee support.
- Employee assistance program
- Health care navigation
For more information, read our absence management brochure.
Americans with Disabilities Act Amendments Act (ADAAA) Services
Symetra's ADAAA Services can easily be added to a Symetra absence management program. Services include:
Workplace accomodation: Helps determine whether an ADAAA accomodation is required and assists with implementing approved requests.
Return to work: Assists employees currently on leave—including FMLA-related leave—with their return to work. ADAAA leave specialists will proactively facilitate this process utilizing existing claim information.
Time away: When employees have exhausted their job-protected leave but still need additional leave time, ADAAA leave specialists will proactively reach out to the ADAAA contact to advise them that there are employees who are approaching their maximum leave allotment and will provide guidance, as needed.
Learn more about the ADAAA Services Program.
Product Highlights
Flexible definition of disability.
Replace up to 70% of pre-disability income.
Experienced service teams.
Empathetic, courteous and prompt customer service.
Convenient, user-friendly online administration system.
Continuity of coverage and integrated options available.
Group disability income insurance policies are insured by, and absence management provided by, Symetra Life Insurance Company, 777 108th Avenue NE, Suite 1200, Bellevue, WA 98004, and are not available in any U.S. territory. Our New York subsidiary insures products for New York policyholders.
Health care navigation and employee assistance programs are offered by ComPsych© Corporation through Symetra. Travel Assistance and Identity Theft Protection programs are offered by Europ Assistance through Symetra; not available in all states. ComPsych© and Europ Assistance are not affiliated with Symetra Financial Corporation or its subsidiaries.
1 Underwriting and package requirements may apply.
Sales & Support
To learn more, visit our interactive sales map and click on the state to see the contact information your local Symetra representative.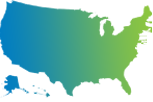 Select the Marketing Materials tab below to find product brochures, sales ideas and enrollment materials.
Forms
Marketing Materials